Sometimes a disruption is just what you need to take a fresh look at things. When the coronavirus pandemic hit in early March, causing Spring Market in High Point to be postponed, the leadership at Theodore Alexander, a leading manufacturer of fine handcrafted furniture, took the opportunity to relaunch the company's website and retool its marketing strategy to adapt to the new normal.
The new website is not only more visually engaging and user-friendly but has been optimized for viewing on mobile devices as well. Visitors to the website at theodorealexander.com can browse through the company's extensive products catalog, find information about its various custom programs, and search a list of dozens of locations where they can find a sales representative to assist them.
To reach customers confined to their homes or offices, the company has shifted more of its marketing efforts to digital outlets. It also has partnered with designer-focused groups, such as the 2020 Virtual Genius Exchange, which featured well-known keynote speaker Jamie Drake, to deliver webinars and online live talks in order to apprise designers, especially younger designers, unfamiliar with Theodore Alexander of its product lines as well as of the many ways it can support them and their projects.
For example, due to shut-downs, many designers are striving to keep projects on track while facing limited inventories and delays in manufacturing and shipping. Because Theodore Alexander has one of the largest stocking programs in the industry, over 1200 of their best-selling pieces are ready to ship within 24 hours. When many companies are pairing down and extending their lead times, Theodore Alexander is trying to find new ways to speed up delivery and offer more pieces to designers needing something last minute. To see what they have in stock, simply select the "In Stock" checkbox when browsing the website.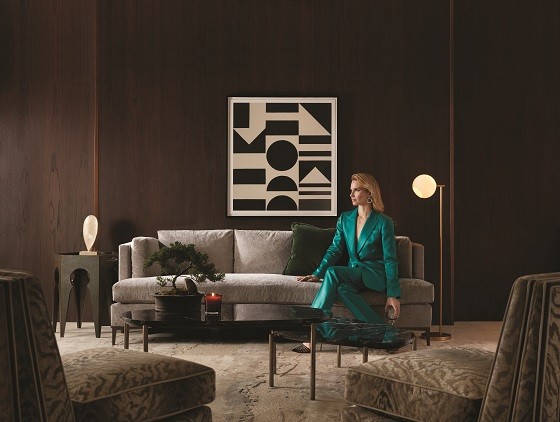 Theodore Alexander also just launched a Quick Ship Fabric Program where customers who place an upholstery order with one of their Quick Ship fabrics can expect their custom piece to ship in 4-5 weeks. Theodore Alexander also has a custom Made to Measure Program to help designers create sofas, chairs, sectionals, and loveseats in the size they need, all customized to their client's desired style. They also offer full personalization from COM to upholstery by the inch.
Since reliability and sourcing are major concerns for designers, the company also is committed to taking the worry out of purchasing. Designers can have confidence in knowing that Theodore Alexander's products are built to the highest level of quality standards. From their upholstery plant in Thomasville, NC, each piece of upholstery is handmade and bench-made, meaning it is created one piece at a time, not by a machine on an assembly line. All surfaces are prepared, sanded and finished by hand, even those that are not visible. The talented and experienced crafts men and women at their facilities take pride in producing an unrivaled level of workmanship.
Intent on equipping designers with the tools to create custom pieces and give full rein to their creative vision, Theodore Alexander offers a Custom Palette Program. Starting with one of their 700+ designs, designers can choose from 40+ unique finishes to make their wildest dreams come to life. This allows designers and retailers to create unique pieces, moving from interior designer to product designer with ease. Color and texture are two of the most critical elements to any home project, and the Custom Palette Program ensures that every furniture piece is impeccable.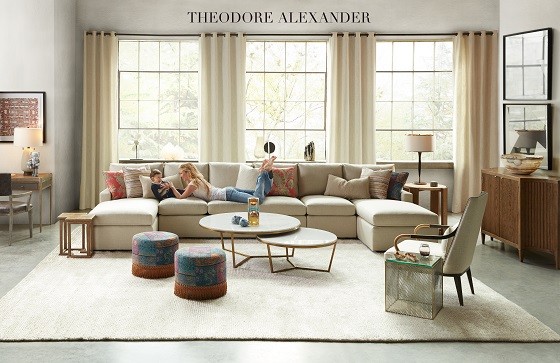 In addition to its new website, Theodore Alexander also recently introduced the ability to customize pieces from the Alexa Hampton Collection with new o Alexa Hampton Custom Finishes. Echoing her signature blend of classic essentials and stunning statement pieces, Alexa Hampton Custom Finishes offer something for both the everyday and the extraordinary.
Theodore Alexander knows great design never stops and fine craftsmanship never grows old. Visit the new website and be prepared to be inspired.